Data Recovery from £50!

Here at Supernova PC Repair we understand just how important your personal data is. Whether it be family photographs or home videos, university coursework, important business documents, or your entire music collection. If the worst happens, it can be sickening. We have already helped many to recover important data that was feared lost- ranging from important coursework or business documents to family photo's, and we will do everything in our power to help you too.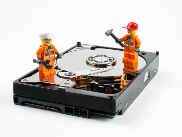 Contact us via: Phone / Email / Facebook / Twitter

First and foremost we advise that everybody ensures they have all important digital data on at least two devices at any given time to avoid losing your precious data. If however the worst has already happened and your computers hard drive fails or begins to fail we can help. We use specialist software and various recovery environments and will do everything within our power to retrieve your data from devices such as laptops, desktop pc's, mechanical hard drives or SSD/flash drives.

Below are some of the signs that could indicate your hard drive is failing. If you believe your device is displaying any of these symptoms stop using the device immediately and contact us for assistance:

Slow boot time/shut-down, system lock up's
Does your system take much longer to load than it used to? Does the screen seem to freeze and not respond to anything you do? This could be a sign your hard drive is failing.

Strange Noises From Your PC/Laptop



If your hard drive begins to make noises, such as clicking or grinding, this can be a sure fire indication that your drive is failing or at worst has already failed.

S.M.A.R.T Errors (Self Monitoring & Reporting Technology).



Newer hard drives have the capacity to monitor themselves for any signs they are failing and report this when you turn on your computer. Please be aware- even if your hard drive has SMART capability, it does not guarantee that you will be pre warned of an imminent failure. On the majority of failed or failing drives we have come across, SMART has not given any early warning.

"Boot Device Not Found" Error



This message is displayed when the system cannot find the files required to boot the operating system and can indicate a hard drive problem.

If your PC or Laptop regularly crashes with a blue screen before restarting, this could be indicative of a failing drive. The operating system works by moving data from the hard drive into the RAM modules. If it fails to access the file or folder this can cause an error resulting in a blue screen.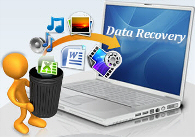 If the device in question is not your boot drive (where your operating system is stored) then symptoms of a failing drive can include:
Error messages when trying to access the drive such as "You need to format the drive before use". (If you see this message please do not format as this will make data recovery much more difficult)

.


Files or folders becoming greyed out or disappearing altogether.




The drive not being detected at all or taking much longer than usual to appear.